Today I'm sharing a very simple tutorial for how to create product collages with Canva. As bloggers, we often create product collages to use for gift guides, wish lists, and any other type of product list. Normally, I would use Photoshop for something like this, but I know that not everyone has Photoshop. Also, sometimes it's nice to just quickly throw something together with Canva and export it when I'm short on time or on the go. So I thought it would be nice to create a tutorial for how to create product collages with Canva (for free), for beginners. In this tutorial I'm going to show you 2 different ways to create product collages: with and without grids.
If you prefer to watch a video, I've made one below that you can watch! Otherwise, the instructions are below.
First, head over to Canva.com and log into your account. If you don't have one, you can sign up for a free account quickly and easily. They do offer paid plans, but you won't need that for what we're doing today.
1. Start with a blank Canva template
You can use one of the premade sizes (like Blog Graphic or Pinterest Graphic) or you can create one with custom dimensions. I'm doing one with custom dimensions of 950×1450 pixels.
2. Choose a layout
Now that you have your blank template, you can start creating your collage. If you wanna use a grid, you can select one in the Layouts tab on the left side. For this example, I chose the 3×3 grid for a book collage. If you don't want to use a grid, you can skip to the next step.
3. Upload your images
In the panel on the left side, click the Uploads tab. From here you can either click and drag your images in to upload, or you can click the green "Upload your own images" button to upload.
4. Place your images
Click and drag an image over into the template with your mouse. Put it in place where you want it in the grid or on the blank page. Repeat, until all of your images are in place how you want them!
If you're creating a collage without grids, you can click the image and then click & drag the corners to resize it. You can also crop it down by double clicking it. See the video above (skip to 5:48) for a live example!
5. Customize & add text
Now that your collage is complete, you can customize it and add text if you want. I added a background image and a title to mine!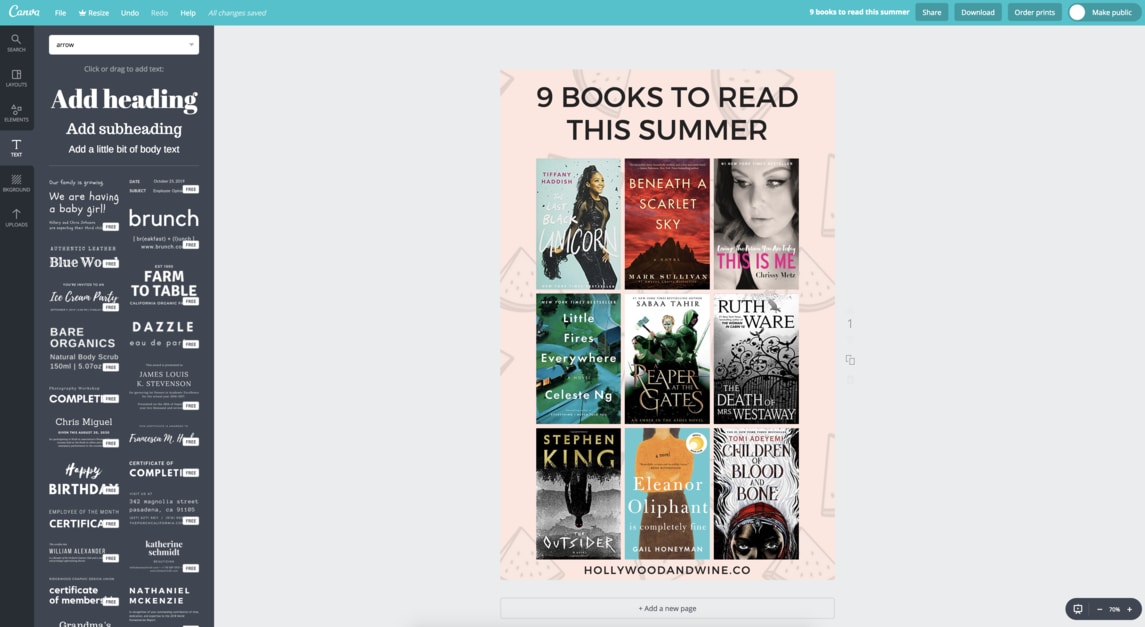 6. Download
When you're done, you can rename the file if you want by clicking on the title next to the Share button. Then, click the Download button in the top right to export it. You can choose whatever file type you want, but I recommend JPG for most cases. It'll start preparing the image and then it'll download automatically to your computer. And that's it! You can now upload it to your blog or wherever you want.